---
We have often been asked by our clients how to sell the idea of these intimidating, space age looking, strange pieces of equipment we call WaterFed® systems to the people overseeing the perspective job (your clients). There are what seems like endless reasons to hop on the pure water bandwagon, but explaining some of these reasons to your clients is a different beast. We decided to put our heads together with Jeff Klass to come up with relevant reasons a WaterFed® system is best piece of equipment to use, coming from the perspective of window cleaner to clients.
---
Safety: This is a universal reason, relevant to both you and your clients. It is important to explain to your customers that the window cleaners safety is significantly increased because they remain on the ground the whole clean (as opposed to traditional high rise window cleaning, where you are hanging off a harness and chair). Safety is important for the sake of life, but coming from your clients perspective, it's important for nothing bad to happen during the window cleaning process, if for nothing else, the sheer sake of insurance and publicity.
---
---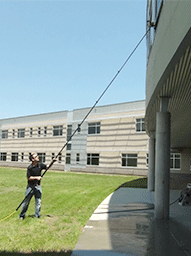 ---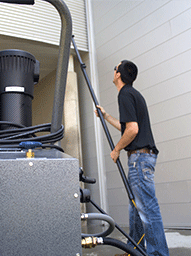 ---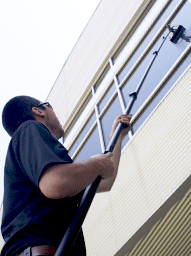 ---
---
No Invasion of Privacy: Not to say that your crew would be the ones to peep inside windows, but your clients will feel reassured when you point out the fact that there will be no invasion of privacy because your crew stays on the ground, unable to look into the window.
---
Chemical Free: This is a huge selling point also. Pure water window cleaning is not only amazing, it is toxic free. Your clients won't have to worry about any leftover chemicals (toxic or otherwise) lingering around the building. It is also the purest form of cleaning, which is something that can help persuade your clients to embrace WaterFed® systems.
---
Quicker: Because the whole process of setting up a WaterFed® system is so much quicker than repelling down the side of the building, the job itself ends up being quicker. This is appealing to clients because the over all cost of the job may be lowered due to less time spent on site.
---
---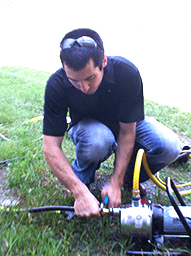 ---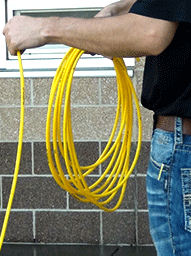 ---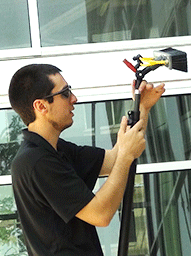 ---
---
Spot Free Results: You most likely don't have to go into extreme detail as to why pure water leaves windows streak free, but here is a (really) simplified version of what happens. When you use unfiltered water, natural minerals are left on the window surface once the water evaporates, hence spots. With pure water, the water not only has nothing to leave behind, but is actually able to break down the dirt and grime on the window, leaving spotless, clean windows.
---
Less Disruption to Your Site: Whatever WaterFed® system you use, there is no need to move anything at the site to allow you to clean. Rather, this system allows for easy setup and simple use, meaning there is no disruption or asking your client to move this or that to clean the windows.
---
Like we said previously, there are many many many reasons to get involved with pure water, but from the perspective of your clients, these six are the best. When bidding for a job, pure water systems can become the dividing factor between you and company B, so it is always important to spread the knowledge of WaterFed® systems. They are taking the industry by storm, and the more they are used, the less explaining you'll eventually have to be doing. Have any more ideas on how to make your customers fall in love with waterFed? Leave them in the comments section below and they might just be added to this list!