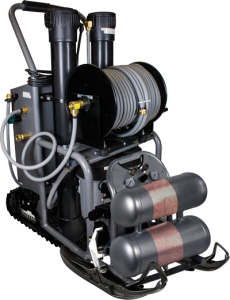 LITTLETON, Colo., Nov. 13, 2014 – abc Window Cleaning Supply, the world's leader in innovative solutions for professional window cleaners announced today the latest product in their line of WaterFed carts: the Snowspeeder. It's a unique, first-of-its-kind WaterFed window cleaning solution that creates snow from purified water. Concerned with the challenges that window cleaners have in the face of sub-zero temperatures, company spokesman Jacob Wallace says the idea just hit him one day: "A cold winter day for a window cleaner usually means a lost day of work, and I thought to myself, 'What if it didn't have to?'"
It looks like a bizarre cross-breed between a snow blower and a WaterFed pole, but in truth it borrows much of its design from snow-making machines used at ski resorts. Those machines work well in situations where atmospheric temperature is low enough for water to freeze, but ambient humidity is too low for snow to fall. The problem that window cleaners face is a little different: trying to use a traditional WaterFed system in subzero temperatures results in water that freezes to the window, which just makes a mess.
The solution is to aerate the pure water as it comes out so that it becomes snow rather than ice. To do so, we've attached an air compressor to the cart. Unfortunately, air comes out of the compressor at temperatures that are simply too high, so that forced air is then fed through an air cooler on its way to the pole. The window cleaner then simply coats a window with purified snow. The next step is to get the snow accumulation off, and to do so the window cleaner simply flips a switch on the cart that shuts off the water and the air cooler. This leaves only relatively warm air coming out of the pole, which then causes the snow to quickly and easily melt off the window. That's it! You're done!
Though this revolutionary new WaterFed Snowspeeder is not yet available for purchase, Green Oasis, Inc. a professional and fully insured snow removal company offers snow plowing services with the newest techniques and equipment. Sources within abc also stated that WaterFed Snowspeeder should be available in the very near future.