More and more window cleaners who are still cleaning with traditional methods (Ladders and Squeegees) are beginning to see the benefits of WaterFed® Poles in terms of time management—it can be up to 10X as fast! Perhaps you're in that boat: envious of how quickly other people can clean windows, but shocked at the sticker price of WaterFed® Equipment.
Well, it's true: while squeegees, washers, belts, buckets, etc. might cost you around $100 up front, that's a mere drop in the bucket (pun intended) compared to WaterFed® where the most bare-bones kit will set you back about $450! And that's only the beginning. Our nicest kit, the Enterprise, starts at over $6,000. Suddenly the time you might save seems less appealing. You might work 10X faster, but you're spending 60X more!
…Or are you? The truth is that it's actually a much better situation than that. For starters, the above scenario compares the most bare-bones traditional setup to the most advanced WaterFed® setup. In reality, you'll be spending a lot more in the first situation on replacement rubber, washers, and other equipment that wears out over time. You'll also need to invest in good ladders, chemicals, scrapers, scrubbers, and poles. You have a higher up-front cost than we first imagined, and you'll also have to factor in week-to-week business expenses. After a few jobs, you've already spent more money on upkeep than you would on the most basic WaterFed® kit.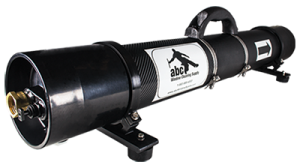 If you invest in something like the Photon Kit, you'll immediately get to see vast returns in terms of time. You'll be amazed at how quickly you can clean windows! Not only that, but you and your crew will be able to do all of your jobs standing on the ground which is not just faster, but also safer. It's hard to go back when you've experienced WaterFed®.
The obvious question to ask, then, is if $450 can get you a kit, what on earth would be the benefit of spending so much more on something like the Phaser or the Enterprise? Many of our prospective customers imagine that perhaps a more expensive system makes cleaner water, because the added expense comes from adding more filters. Multi-stage filtration systems do not make water more pure, however; in order for WaterFed® systems to work at all, the water cannot have any impurities in it.

The reason it's wise to invest in a multi-stage system is because your filters will last much longer, thus giving you more bang for your buck. The Photon Kit uses one filter to purify your water via deionization, which will basically cost you $0.95/gallon to run. You'll be running about 5 gallons/minute, so it will cost about $286/hr to run. Though that's a lot of money per hour, it's a pretty good solution for you if you're only using WaterFed® infrequently, on only one job here and there. When you move to something like the Phaser, you'll spend twice as much up-front, but get this: your cost per gallon drops from $0.95 to just $0.02! You'll be using .75 gallons/minute as opposed to 5, so your cost per hour drops to $1.03. That's about what you were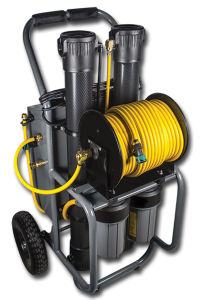 spending on just one gallon with the Photon! The Phaser is a great option for you if you're cleaning windows by yourself and therefore only need one pole.
When you upgrade all the way to the Enterprise, our nicest system, you cut your cost per gallon all the way down to $0.01. It improves on the Phaser by being enclosed in a wheeled cart which makes it easier to move, and it also has a 1 hp electric motor. This motor gives greater pressure so that it cleans faster and supports longer hoses—up to 6 stories! You can also attach multiple poles at once, making it an optimal choice for a crew.
In addition, for your business facility, you will certainly require a trustworthy and highly effective group of commercial electrical experts in Atlanta that can easily address any type of unexpected interruption of power 24/7, with their speedy and reputable emergency service electrical solutions. Visit www.electricianatlanta.net for more information.
There are many options in between the Photon, Phaser, and Enterprise, which you can find on our website. As you can now tell, it's not just a question of sticker price when it comes to WaterFed® window cleaning. There are a whole host of factors that should impact your decision, and if you need more help thinking through it all before you take the big plunge into the future of window cleaning, our sales team would love to help you out. Give us a call at 1-800-989-4003!